756 Piece Jigsaw Puzzle World Class
---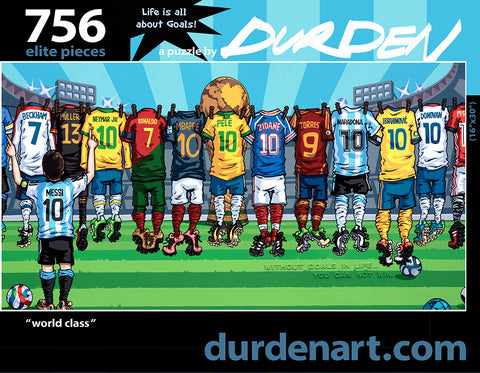 Soccer, futbol, a game of skill, Without goals it's just a drill,
On the field you strive to score, To win the game and so much more.
With each pass you move ahead, other teams were left for dead,
Sportsmanship you find instead, the England fans out for bloodshed.
Some England fans become divided, City or Manchester United,
Some are serious, they get so looney, Some would think I forgot Wayne Rooney 
From Portugal to Uruguay, On the pitch is where they play,
They say Brazil has won the most, But Germany is really close. 
The French are rooting for Zidane, Singing songs of AC Milan,
The game is played on fields of green, Some just shout for Robby Keane.
At 90 when the whistles blow, Say Salam to Mr. Mo,
The scoring threat of Mo Salah, He has more goals than ol' Kaka'.
The flag is up …a call to make, He made a run…a big mistake,
The crowd erupts for Donovan, He finds himself off-sides again.
A penalty is given…a chance to score, Moment of truth…the crowds will roar,
Your wishes, your hopes, and your dreams You wear the flags and support your teams,
There was a foul, a whistle blown, a player down, red card was shown,
The game goes on with one less man, Your team must fight and make a stand.
PKs will choose which team will win, Tension builds… shootout begins,
The pressures on…the ball is struck, The goalie dives…he hopes with luck.
Yellow cards are used to warn, They're trading shirts that others worn,
All these players are world class, The best to ever kick the grass!
From left to right: 
Luis Suarez -Uruguay, David Beckham -England, Thomas Muller -Germany, Neymar Da Silva Santos Jr -Brazil, Cristiano Ronaldo -Portugal, Kylian Mbappe -France, Pele (Edson Arantes do Nascimento) -Brazil, Zinedine Zidane -France, Fernando Torres -Spain, Diego Maradona -Argentina, Zlatan Ibrahimovic -Sweden, Landon Donovan -United States, Mo Salah-Egypt, Lionel Messi-Argentina 
This listing is for one 756 piece jigsaw puzzle. The original painting is acrylic on wood panel. The finished puzzle comes out to 16x30".
With excellent picture quality and lasting color, this jigsaw puzzle is the perfect way to keep children of all ages busy and challenged. Puzzle pieces are durable 1.2mm die cut cardboard and arrive with the pieces safe in a plastic bag ready to be put together. Be sure to check out the puzzle boxes made with love for your enjoyment!
756 pieces produces 16x30" finished picture image - Puzzle Box (approx 9x7x1.6in)
Colors may vary only slightly in terms of brightness & contrast due to customer monitor variations.
Related Products
---