756 Piece Jigsaw Puzzle Fourth and One
---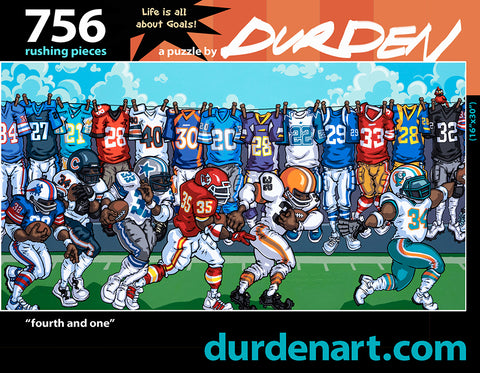 It's hard to select, from the top of this list,

Some say he's the greatest To ever exist.
A very small few, You've drafted so many,
Out of the backfield, To carry pig skinny.
So cold in Chicago, Some fans will be freezing,
Head made of Iron, A Bear only one season.
Never a field goal, The Sweetness is here,
It's time to be Raiders, And drink all the beer.
So many have played, Now Warrick is Dunn,
Just Marshall Faulk it, Only fourth and one.
Titans are tough, But these Lions are scary,
You thought it was close, You're team just got Barry'd. 
A Bill or a Bronco, Or Thomas the train,
OJ is still running, On glory and fame.
On this field, They call the grid iron,
Ten thousand yards rushing, Before you're retiring.
Football is full of backs that can run,
it isn't decided, who's number won.
Some say it's the man, The man in the Brown,
No one can stop him, From the first down.
He played up in Cleveland, Or was it Green Bay,
They say he's amazing, Others say Okoye.
From left to right: 
Earl Campbel (1978-1985), Eddie George (1996-2004) ,LaDainian Tomlinson (2001-2011) ,Warrick Dunn (1997-2008), Gale Sayers (1965-1971), Terrell Davis (1995-2001), Barry Sanders (1989-1998), Adrian Peterson (2007-2021), Emmitt Smith (1990-2004), Eric Dickerson  (1983-1993), Roger Craig (1983-1993), Marshall Faulk (1994-20060, Marcus Allen (1982-1997), Thurman Thomas (1988-2000), Oj Simpson (1969-1979), Walter Payton (1975-1987), Christian Okoye (1987-1992), Jim Brown (1957-1965)
This listing is for one 756 piece jigsaw puzzle. The original painting is acrylic on wood panel. The finished puzzle comes out to 16x30".
With excellent picture quality and lasting color, this jigsaw puzzle is the perfect way to keep children of all ages busy and challenged. Puzzle pieces are durable 1.2mm die cut cardboard and arrive with the pieces safe in a plastic bag ready to be put together. Be sure to check out the puzzle boxes made with love for your enjoyment!
756 pieces produces 16x30" finished picture image - Puzzle Box (approx 9x7x1.6in)
Colors may vary only slightly in terms of brightness & contrast due to customer monitor variations.
Related Products
---