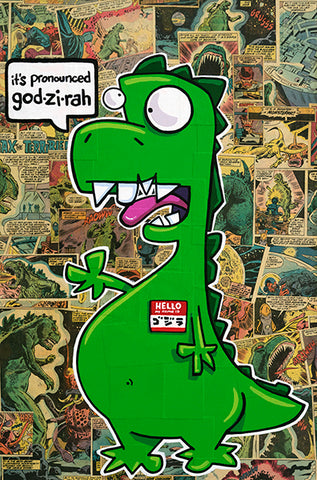 In the famous lyrics of the Blue Oyster Cult…
"Oh no, there goes Tokyo, Go Go Godzilla, yeah!!!"
The original Japanese name for Godzilla, "Gojira" is translated to mean "Gorilla of a Whale". This famous name is spoken inside our minds, to ourselves. However we may pronounce it, doesn't really matter to him. Accepting and owning the sound that would forever change what we describe as BIG. This radioactive mega-lizard would redefine anything we call oversized or unmanageable. Whether it's Momzilla or Bridezilla tearing apart this matrimony, this icon signifies the fear in all of humanity when the problems seem monstrously too large.
Shakespeare famously asked, "What is in a name?"
-When names themselves are a convention to distinguish things or people, but do not themselves have any worth or meaning.
Our origins are predetermined, and we are born with a label to introduce ourselves to the world. These sounds are spoken to us and shape our understanding. The people who come before us determine how it's pronounced and what it means. We accept these enunciations and fix them as our own identity. How many people do you know that have a name that is pronounced differently than it's written?
Language is forever evolving and adapting a new meaning. Slang and popular culture produce the most iconic words and sounds that bulldoze their way into the public acceptance of our everyday dictionary.
Have fun with it… `
It's all in the way we agree… or agree to disagree, and it's our reaction that gives it power.
This listing is for one digital reproduction. The original painting is acrylic on wood panel.
Printed on high quality archival photographic luster paper. 
Prints are hand signed in black ink.
Print includes approximately 2" white border.
Standard size for framing.
Colors may vary only slightly in terms of brightness & contrast due to customer monitor variations. 
Related Products
---